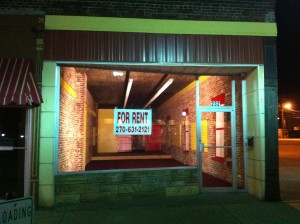 Have you ever thought about opening a small retail business in downtown Henderson Kentucky?
There is a great building in downtown Henderson that is perfect for you!  The building is at 232 N Main St in beautiful historic downtown.  This building has over  1200 square feet of open space.
Over the years this space has been an insurance agency, financial adviser office, computer store, pack and ship store, antique store, a recording studio and as of late a successful bicycle shop.
The space has a new metal roof, new commercial grade red carpet and a security system.  Plenty of on street free parking.
Ideas for building?
*Retail Business
*Hat Shop
*Knitting Shop
*Coffee Shop
*Year Round Farmers Market
*Commercial Kitchen with Retail
*What is your DREAM business Venture?
Henderson's Kyndle helps entrepreneurs in our area get started.  See their website for more information.  They have various types of loans available for new businesses in our area.  They have a section of their website dedicated to furthering entrepreneurship in our area.  They have various types of loans available for new businesses in our area as well.
The Downtown Henderson Partnership is also another resource for information about relocating or starting a business in downtown Henderson KY.
There is nothing like having a Main Street address! If you are interested in seeing this property please email, chat or call 270.631.2121 for a private showing.
Nibby also owns the twin to the building and it is for rent at 234 N Main St.